Procedure Library
Sponsored Projects
eRA Commons Access
Purpose
Obtain an eRA Commons account to maintain compliance with applicable federal agency requirements and University of Utah requirements.
Applicability
Principal Investigators (PIs) or their designees assigned to grants, cooperative agreements and fellowships with the National Institutes of Health (NIH), Agency for Health Care Research and Quality (AHRQ), Centers for Disease Control and Prevention (CDC), Food and Drug Administration (FDA), and Substance Abuse and Mental Health Services Administration (SAMHSA).
University of Utah and many governmental organizations require actions through the eRA Commons system to maintain compliance. For more information, please see the NIH eRA website.
An account must be created by OSP.
Accounts are required for: investigators submitting proposals; faculty sponsors on fellowship applications; post-docs, graduate and undergraduate students for progress reports; proposal reviewers.
Instructions
Email OSP and provide your:

Full name;
Department;
Utah email address (no gmail, hotmail, etc.);
Rank (graduate student, postdoc, faculty member, staff); and
Requested eRA Commons role.


If you are a Principal Investigator with an existing eRA Commons account who needs to affiliate with the University of Utah, email OSP and provide your full name, Utah email address, and eRA Commons username.
If you are unsure of which role to request, NIH provides descriptions of all eRA Commons roles. The most frequently requested roles are:

Principal Investigator (PI): May access information pertaining to the grant(s) on which he/she is the designated PI. May edit their own personal profile, view grant application status and related information, view notice of award, initiate an RPPR (Research Performance Progress Report), view and manage certain training grant activities, and delegate authority to an ASST for certain actions on their account.
The ASST role is for department and college research administrators who work with PI's to complete proposals and reports.

Access to proposals and reports is maintained and delegated by the PI, not by OSP, to assist with data entry and/or view grant status.

OSP will create your eRA Commons account or affiliate an existing account with the University of Utah.
NIH will send you an email notification. For a new eRA Commons account, this notification will contain your logon URL. Click the URL to update the password and your account will be available for your immediate use.


If you have a legacy or unaffiliated entry in the NIH database you will receive an email from the NIH requesting confirmation that the account belongs to you. Your account will be available for use 24-48 hours after you provide the necessary confirmation.

eRA Commons users will need to complete their Personal Profiles. NIH provides a video tutorial to familiarize users with the Personal Profile.
The University is required to create an NIH eRA Commons account for individuals in graduate and undergraduate student roles who participate in NIH-funded projects for at least one person month or more.

You are required to login to eRA Commons here and complete your Personal Profile – including answering the demographic questions. Here are some instructions.

Graduate students and post-docs who complete their eRA Commons Profile are required to answer certain demographic questions related to their date of birth, gender, race, ethnicity, disabilities, US citizenship status, and country of citizenship. And, where applicable, they will need to indicate their highest educational degree and the institution where it was earned, in order to complete the data collection. RPPR's lacking the eRA Commons ID for graduate and undergraduate students will receive an error and the RPPR will not be accepted by the NIH without this information.

After you have completed your profile, please email your department administrator and/or PI to confirm that you have fulfilled this requirement by sending a screenshot of your Personal Profile Summary.
Note: All of the contents should have a green check next to each section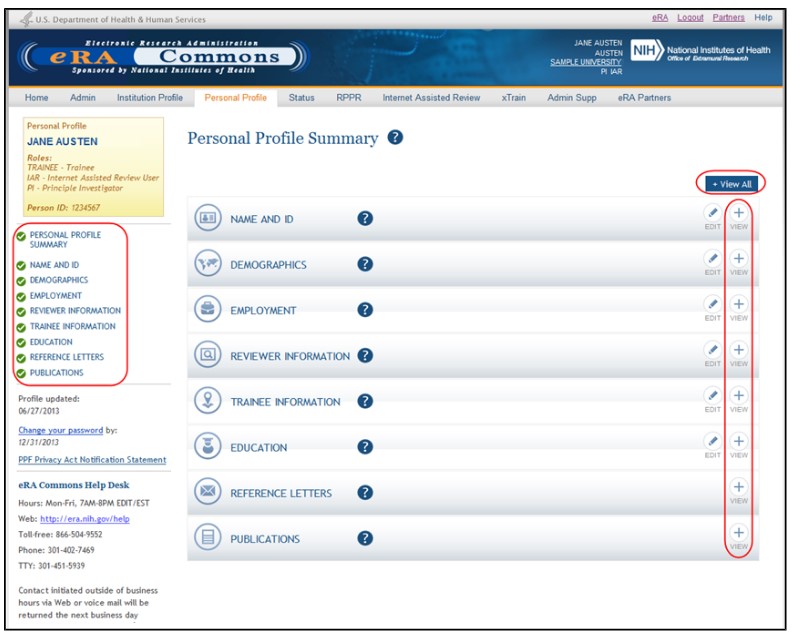 Related Policies and Procedures
Grant Life Cycle > Submit Proposal > Electronic Submission & Registration > NIH eRA Commons
Be notified of page updates
Procedure Library Feedback
Do you have comments or suggestions for this procedure?