Procedure Library
Sponsored Projects
Document Summary Sheet (DSS) Creation
Purpose
The Document Summary Sheet (DSS) is a product of e-Proposal (accessible via CIS) and is the beginning of any sponsored project. e-Proposal is a system that provides for electronic preparation, review, submission and tracking of proposed research activity. The DSS is used to collect information about the proposed project and to document the necessary approvals. The DSS forms the base on which the specifics of the project are started.
Applicability
Investigators or administrators submitting a sponsored project proposal or submission, including letters of intent and pre-proposals, that require University authorization, institutional approval, and/or OSP involvement. This includes:
Any new base award, including transfers;
An old award that is being transferred to a new sponsor and thus issuing the University a new contract;
A new competing segment;
NIH Type 2 and 7 award typically (or whenver the document ID or institute changes);
Resubmission of a prior proposal; and
Any COVID-19 related submision, including pre-proposals (including white papers) and supplements.
Please use the Current UU Project Number field on the Proposal Information page in eProposal to tie projects together: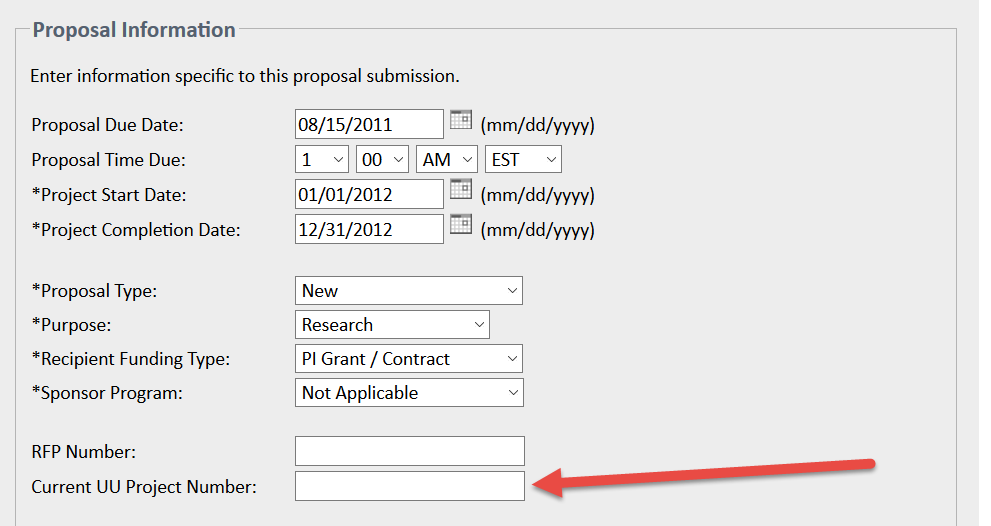 A new DSS may also be required if:
There are any significant changes in the scope of work or research plan on an existing project;
New assurances are required;
There is a gap in the project end date on an existing project and the start date on the supplemental award;
Carry-over is not allowed.
Instructions
Read the Obtain Approvals portion of the Grant Life Cycle for detailed instructions on completing the DSS.
Related Policies and Procedures
Be notified of page updates
Procedure Library Feedback
Do you have comments or suggestions for this procedure?