Procedure Library
Sponsored Projects
Subrecipient PI using University of Utah COI Policy
Purpose
A subrecipient will be given the option to designate which entity's financial conflict of interest (COI) policy will apply - either:
1) the subrecipient has an active and enforced policy that is consistent with standards outlined in University of Utah policy and applicable federal regulations, such as the provision of 42 CFR Part 50, Subpart F "Responsibility of Applicants for Promoting Objectivity in Research".
As set forth in Rule 1-006C, F. Applicability to Subrecipients 1. i., Subrecipient shall make such policy available via a publicly available website, unless subrecipient does not have such a website, in which case subrecipient shall make its written policy available to any requester within 5 business days of a request.
Subrecipient also certifies that, to the best of its knowledge, (1) all financial disclosures have been made related to the activities that may be funded by or through a resulting agreement, and required by its conflict of interest policy; and, (2) all identified conflicts of interest have or will have been satisfactorily managed, reduced or eliminated in accordance with subrecipient's COI policy prior to the expenditure of any funds under any resultant agreement.
Subrecipient further certifies that when required by a sponsor, subrecipient shall report all identified financial conflicts of interest to the University of Utah prior to the expenditure of funds on the project and within 45 calendar days of any subsequently identified FCOI.
or
2) the subrecipient does not have an active and/or enforced COI policy that is consistent with University of Utah's policy and agrees to abide by Rule 1-006C of the University of Utah's Individual Financial Conflict of Interest Policy 1-006 and the COI Office Guidance for Subrecipients.
The option for "not applicable because the project is not funded by NIH, NSF, or other sponsor that has adopted the federal financial disclosure requirements" is no longer available per University of Utah COI office.
Applicability
Subrecipients who do not have their own COI policy may opt to use the University of Utah's Individual Financial Conflict of Interest Policy 1-006. In doing so, they agree to follow the process and procedure outlined in the COI Office Guidance for Subrecipients.
A fully executed subaward will not be returned to the subrecipient until all steps are completed.
Instructions
If the University of Utah's Individual Financial Conflict of Interest Policy 1-006 will apply, subrecipients will now complete the COI information and process in eAward before it is routed to OSP.
On the subrecipient commitment form, when the COI option 2 is selected, it now opens a drop-down asking the subsite to enter subrecipient information such as UID (if applicable), first/last name, email, etc. (as shown in screenshot below).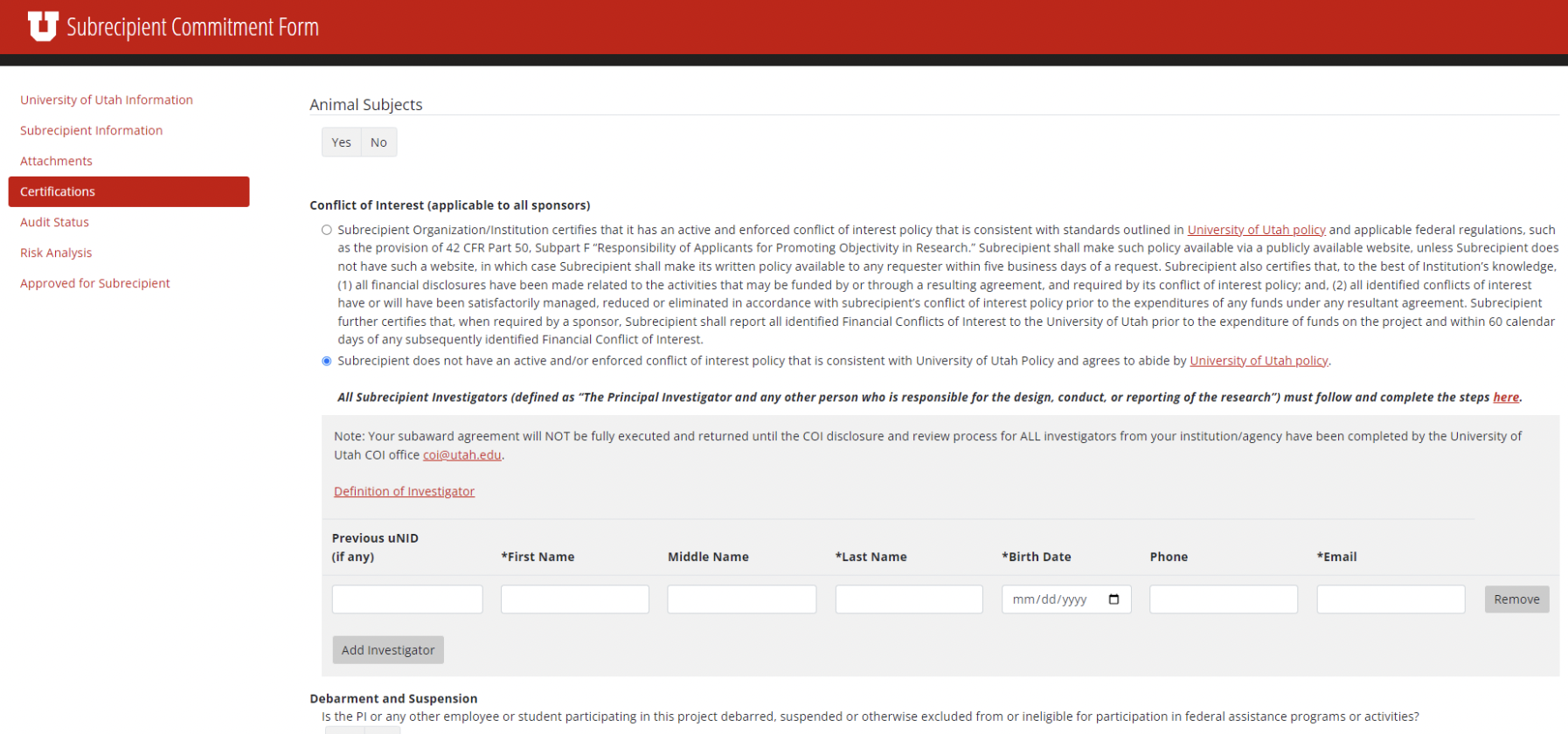 This information is sent automatically to the COI office's ERICA system for further processing and COI review. The process when it is with COI can be found here: Subrecipients - Conflict of Interest - The University of Utah. Please contact the UU COI office with any questions about the status of review.
When option 2 is selected, OSP will update the transaction status to "Pending Subs" in eAward.
When the COI process and review is complete, the COI office will email OSP notification/confirmation that the review is complete. OSP will attach a copy to the eAward transaction and continue with the review and processing as normal.
Depending on the type of agreement used, OSP may need to incorporate appropriate COI contract language, as discussed here, into the subaward to require the subrecipient to follow the University of Utah's Individual Financial Conflict of Interest Policy 1-006.
Only once all steps are completed will OSP issue the fully executed subaward agreement and Purchase Order (PO) to the subsite.


Related Policies and Procedures
Be notified of page updates
Procedure Library Feedback
Do you have comments or suggestions for this procedure?